Home » 2011 » August » 16 » Chthonic announce new album and North American tour
---
1:17 PM
Chthonic announce new album and North American tour
CHTHONIC: Taiwanese Black Metallers To Unleash Sixth Studio Album Stateside; Band To Support Arch Enemy On Their North American Fall Tour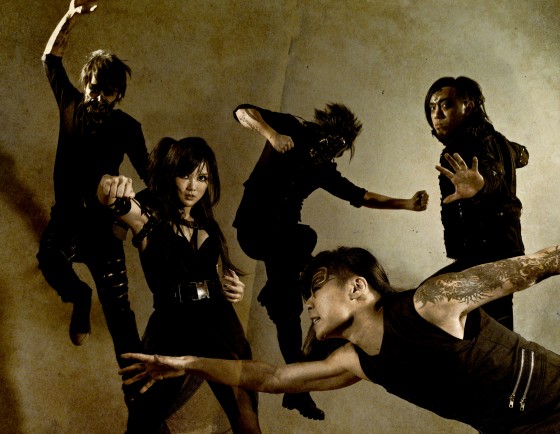 Long-running Taiwanese symphonic black metallers, CHTHONIC, are pleased to announce the North American release of Takasago Army on September 6, 2011 via Spinefarm Records. The ten-track Takasago Army marks the band's sixth full-length. Produced by Rickard Bengtsson (Arch Enemy, Nemesis) at Sweet Spot Studios in Halmstad, Sweden, the record's concept completes a trilogy that binds together the band's Seediq Bale and Mirror Of Retribution albums, released in 2007 and 2009 respectively.
Comments bassist/backing vocalist Doris Yeh: "We're very proud to present our latest album Takasago Army; it's a masterpiece of the elements of Orient folk and extreme metal. The background revolves around WWII, and we want to reveal the spirit of finding your own dignity through the most difficult and dangerous mission on the battle ground. The closer you cone to death, the more you know who you are."
Takasago Army Track Listing:
1. The Island
2. Legacy Of The Seediq
3. Takao
4. Oceanquake
5. Southern Cross
6. Kaoru
7. Broken Jade
8. Root Regeneration
9. Mahakala
10. Quell The Souls In Sing Ling Temple
Coinciding with the North American release of the record, the band will embark upon a near three-week tour supporting Arch Enemy. Sponsored by MetalSucks and Full Metal Jackie, the North American Khaos 2011 trek will commence on September 8 in Maryland and steamroll its way across the country and Canada before winding down in Chicago on October 4. DevilDriver and Skeletonwitch will also be joining the tour. See complete list of dates below.
Noted Yeh: "We've toured with Arch Enemy for five shows in the UK last year and it is a true pleasure to tour with them again in the US and Canada! We are very excited! And we've been played Ozzfest in 2007 with many bands including DevilDriver; it's good to play with them again after four years! Skeletonwitch is an awesome band as well. This tour has very strong lineup, and we're sure we won't disappoint the fans who come out!"
CHTHONIC North American Khaos 2011 Tour
w/ Arch Enemy, DevilDriver, Skeletonwitch
9/08/2011 Ram's Head– Baltimore, MD
9/09/2011 Best Buy Theater – New York, NY
9/10/2011 The Palladium – Worcester, MA
9/12/2011 Imperial – Quebec City, QC
9/13/2011 Metropolis – Montreal, QC
9/14/2011 Phoenix – Toronto, ON
9/17/2011 The Garrick Center – Winnipeg, MB
9/19/2011 MacEwan Hall – Calgary, AB
9/20/2011 Edmonton Events Centre – Edmonton, AB
9/22/2011 Commodore Ballroom – Vancouver, BC
9/23/2011 Showbox – Seattle, WA
9/24/2011 Knitting Factory – Spokane, WA
9/26/2011 Regency Center – San Francisco, CA
9/27/2011 Nokia Theatre – Los Angeles, CA
9/29/2011 The Marquee – Phoenix, AZ
9/30/2011 The Sunshine Theater – Albuquerque, NM
10/1/2011 The Gothic Theatre – Denver, CO
10/3/2011 First Avenue – Minneapolis, MN
10/4/2011 House Of Blues – Chicago, IL
Views:
545
|
|
|