Home » 2011 » March » 29 » Marduk to release new EP
---
3:57 PM
Marduk to release new EP
MARDUK: Swedish Black Metallers to Unleash Three-Song EP
Swedish black metallers MARDUK recently completed recording three new songs for an upcoming EP. Dubbed Iron Dawn, the EP is set for release via Regain Records on May 27, 2011, at the Maryland Deathfest where the band will make their long-anticipated appearance. The EP will also be available at the six additional North American shows to follow with a worldwide street date of May 30, 2011.
Additionally, the EP will be issued as a digipak and on 12" vinyl (limited to 500 copies worldwide). Further details to be announced soon.
Iron Dawn Track Listing:
1. Warschau 2: Headhunter Halfmoon.
2. Wacht Am Rhein: Drumbeats Of Death.
3. Prochorovka: Blood And Sunflowers.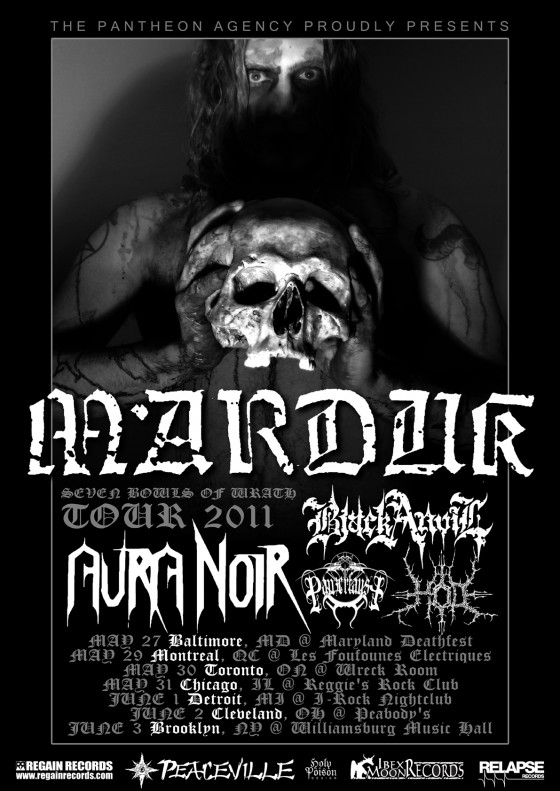 MARDUK Seven Bowls Of Wrath North American Tour 2011
w/ Aura Noir, Black Anvil, Panzerfaust, HOD:
5/27/2011 Maryland Deathfest - Baltimore, MD (MARDUK, Aura Noir only)
5/29/2011 Cafe Campus - Montreal, QC
5/30/2011 Wreck Room - Toronto, ON
5/31/2011 Reggie's Rock Club - Chicago, IL
6/01/2011 I-Rock Nightclub - Detroit, MI
6/02/2011 Peabody's - Cleveland, OH
6/03/2011 Williamsburg Music Hall - Brooklyn, NY
Views:
664
|
|
|