Home » 2011 » April » 11 » New releases on Hells Headbangers
---
12:24 PM
New releases on Hells Headbangers
FLAME - "March Into Firelands" (CD)
Features killer artwork by Juanjo Castellano (Incantation, Anal Vomit, etc) across 12 pages with lyrics, photos, etc. Layout is exactly the same as the European Primitive Reaction pressing. Limited LP also in stock!
Prepare to March Into Firelands - FLAME are here to burn you straight to hell! A cult name in their native Finnish scene, FLAME summon forth triumphant epics of gnarliness that are equal parts ancient blackthrash and just-as-ancient bestial metal. And now, six years after their Into the Age of Fire debut LP, FLAME return with the highly anticipated March Into Firelands, proving that their unholy conflagration's as potent as ever: dynamic yet immediately headbanging, rooted in the old ways yet never recreating anyone's past glories... feel this FLAME and take this torch! Played by members of Adorior, Barathrum, Urn & Hell Spirit. Recommended for diehards of NIFELHEIM, early VULCANO, AURA NOIR, and old DESASTER!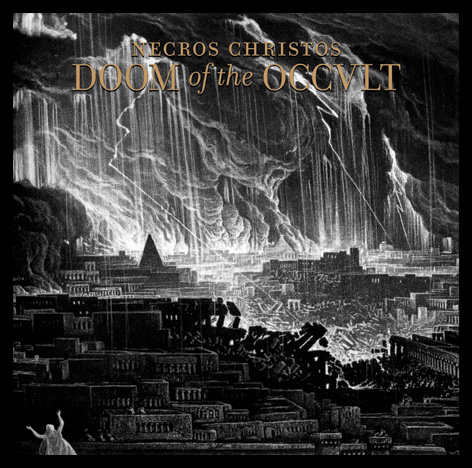 NECROS CHRISTOS - "Doom Of The Occult" (CD)
Jewel case CD edition on the Ajna Offensive with noble layout / artwork and all lyrics (exactly the same as the European pressing)!
Entering its 10th year of existence, the entity known as Necros Christos unleashes its second full length album entitled Doom of the Occult. Features nine new tracks such as Necromantique Nun, The Pharaonic Dead and Descending into the Kingly Tomba alongside numerous acoustic interludes for which the band is infamously known for since its creation in 2001. Expect nothing but one of the most dark, occult and disturbing Death/Doom Metal records of all time.
SIGH - "Scorn Defeat" (12" TRIPLE LP BOX SET)
The Crypt is honored to have taken over vinyl duties for SIGH's masterpiece "Scorn Defeat". Originally planned to be released on Enucleation Records, this amazing album will finally get the vinyl treatment it deserves, as we feel that the Vinyl Collector's LP from 1996 was sub-par to say the least, cramming over 50 minutes of music on one LP, thus substantially diminishing the sound quality.
This ultimate edition contains well over two hours of cult, 90's second wave black metal on 3 180 gram heavy vinyl LPs, strictly limited to a one time only pressing of 500 hand-numbered copies - 300 of which will be emerald / red marbled vinyl. These killer slabs of wax come housed in 2 350 gram semi gloss gatefold jackets featuring the both of the original DSP covers, including the original black and white Anne Marit Brenden illustration as well as the second pressing cover photo featuring Shinichi with sword.
To retain the classic feel of the original 1993 release, these 2 gatefolds are designed in the spirit of the original CD layouts with attention to detail, even down to the typeface and original DSP logos, as well as well as exclusive band photos, classic interviews and new, extensive liner notes by Mirai.
Included in each gatefold are huge, luxurious 24" x 36" (60.96 cm x 91.44 cm) posters of both the original album covers. Both gatefolds come housed in an amazing, heavy gauge box with the original DSP cover illustration and garnished with an obi-strip. To the obi strip pristine during shipping, it will be housed inside the box.
GEHENNA - "Malice" (12" Gatefold TRIPLE LP)
For the first time on Vinyl, The Crpyt proudly present the third full length album by Gehenna (Nor). Majestic and atmospheric, aggressive and extreme black metal! Pure Norwegian art! Gehenna became known for their melodic and grim black metal, with symphonic elements adding greatly to the atmosphere of the music, particularly on early releases. The band's style progressed over the years, taking on more death and thrash metal elements at times before returning to black metal. Malice album is arguably their best release to date!
Strictly limited to a one-time only pressing of 500 hand-numbered copies, 300 of which will be on 180 gram red / orange marble fire-colored vinyl. These amazing slabs of wax come housed in a 350 gram, semi-gloss printed, triple gatefold jacket featuring the original classic cover artwork, lyrics, new extensive liner notes by Dolgar and exclusive band photos. In addition the layout uses original elements just like the original CD release by Cacophonous Records, for complete attention to detail - even down to the typeface.
In addition to the classic 1996 album, this 3LP set features 12 unreleased bonus tracks including 4 outtakes and 8 demo tracks from the Malice recording sessions. Included in all 500 copies is a luxurious 24" x 36" (60.96 cm x 91.44 cm) poster of the album cover artwork.
Views:
681
|
|
|